Email Marketing Made Easy!
Stay in touch with your clients.
We will create and send your email campaigns for you. No hassles.
Trusted by thousands of Mortgage, Real Estate & Small Business owners

Done For You Email Marketing
We craft and send beautiful email campaigns to your clients on your behalf
Let's face it. It's not easy to create your own email marketing campaigns and send them out. It takes hours of tedious work. Let our team take away that hassle and create and send out your campaigns for you.
View Examples
Pricing

Cost Effective Return on Investment
Engaging Email Campaigns That Get Results.
Marketing is essential for any business during any type of economic environment. Your hand-crafted email campaign will help you stay in touch with your clients and help drive revenue.
View Examples
Pricing
Who can benefit from Email Marketing?
Mortgage Brokerages
Mortgage Agents
Mortage Loan Officers
Real Estate Brokerages
Real Estate Agents
Insurance Agents
Accountants & Financial Advisors
Restaurants, Coffee Shops
Food Services
Landscapers and Gardening
Home Builders
And many more!
over 59%
Companies that indicated email marketing is their biggest source of ROI.
83% of companies
Consider email marketing essential to their business, especially during economic downturns.
7 hours +
Time you save having us do the email marketing design, setup and sending for you each month.
Let us take the stress off your hands when it comes to email marketing. Stay in touch with your clients all for an
extremely affordable cost

.
$

75
1-time set-up fee.
*Basic template starting price.
*Max 30 mins design time.
$

40
per campaign blast.
*This is for 1 email campaign send up to 2000 clients.
What's The Process?
We will make getting started as easy as possible but we will need your participation.
Send us an email or call us to get started

Simply send an email to support@roarsolutions.com or call 1-866-820-0831 and let us know that you want the managed email marketing service.

We go over the details with you

We will determine with your input what email theme you'd like to use, what tweaks need to be made and also grab your client email list.

Build, approve and start sending.

We will build the initial email template. This will be the basis for future email sends. We will create an account in our email marketing software and upload your client email list. You then approve the design, provide any custom mesaging you might want to see and we can launch it for you. The process might take up to 2-3 business days. Customizations can increase lead times.
Have Questions?
Here are a few answers to some common questions you might have
What's the cost of all of this?
There is a 1-time setup fee of $75 as we need to hand craft the email template to have your branding in place. Then each email blast to your list is a $40 flat fee. This is for us to adjust any content you might provide, upload new subscribers and then send the email campaign out. Max 30 minutes update time. If you have extensive changes then the fee might be higher as we do need to cover our time.
How long will it take to setup?
Typically this will be 2-3 business days but this depends on your quick responses to our questions.
Can I have more than 1 email template?
Yes we can definitely look to create more than one base email template for you. Please note that this will incur some extra costs of which we would quote you.
Do you guarantee that all recipients will get the emails?
Unfortunately we, nor anyone can guarantee that each and every email address in the list you provide us will get the emails sent out. This is for various reasons. Reasons include... the receiving companies email servers might block certain emails, the end users email no longer exists, the end users email client has certain spam filters in place and more.
Please Note: We do not reimburse any monies in case that some of your email recipients do not receive the emails.
What about email reports?
Our email marketing system does allow you to export excel spreadsheet reports for you to download and take a look at. If you have us use a system such as Mailchimp then you would simply be able to login to that to view any reports.
Do I have to sign any contracts?
There are no contracts, you can cancel at any time.
I already have a Mailchimp account, what now?
If that's the case and you wish us to use that account we would need you to provide us with account access in order to send out your emails.
Our rock solid Support Team can help with any questions you might have. The fastest way to our team is always by email at support@roarsolutions.com or toll free 1-866-820-0831.
always included
Expert Support
Have questions?
Our team is always here to help you with your online needs.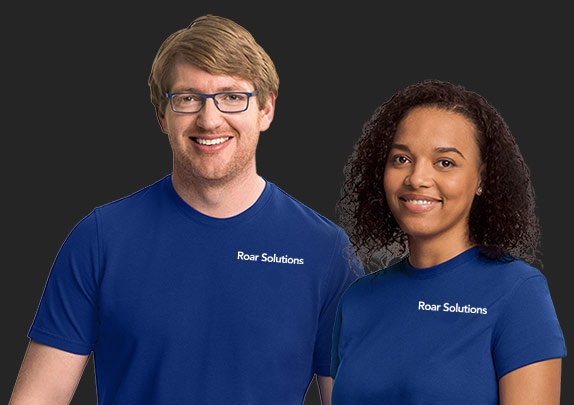 There's no time like the present
Get Started Today With Our "Done For You" Email Marketing