Mortgage Broker, Loan Officer & Business Website Designs & Marketing That Help Generate Leads.
Trusted by thousands of Mortgage, Real Estate & Small Business owners
professional mortgage website designs & templates
Look like an expert right from the start.
Do you really want to be building your own mortgage or business website? Of course not. Why not focus on your business and let us build you an amazing website you can be proud of. Just makes sense doesn't it.
Browse Our Themes


online marketing tools
Reach, impact and grow your audience.
Engage with your website audience, capture leads, grow your client list and let people clearly understand your products and services.
View Website Features
less than 1 second
That's how long it takes people to form an impression of your website.
77% of users
Are going to be viewing your site on a mobile device or smartphone.
9 hours +
Time you save having us build your website for you.
We ensure your Mortgage, Real Estate or Small Business website looks great on mobile devices and is making an amazing impression on your potential clients right away.
You work on your business.
Let us handle your website design, hosting & internet marketing.


SSL Built-in
We ensure your site has the green lock to help build trust with your clients.
Mobile Friendly
We make sure your site will look great on any device.
Content Ready
Pre-set, ready to go content for all Mortgage and Real Estate sites.
Easily Update Content
Easily update pages, add images, tweak items for Google and loads more.
Webstats & Analytics
Website Visits and more. Need Google Analytics? We can install that as well.
Domain Names & Email
We can purchase your domain name and also set-up email accounts.
Automation
We help automate newsfeeds, rates and much more to help save you time and headaches.
Lead Capture
We help ensure that all your website leads are tracked and easy to find.
Are you a Marketer or Marketing Firm or Agency looking to turn to a trusted source for website design for your clients? Look no further.
We offer a wide variety of add-ons and 3rd party widget installations to help your website become a powerful tool for your business.


always included
Expert Support
New to building websites? No problem.
Our team of experts have helped thousands of Mortgage, Real Estate and small business owners get their websites online. Real people answering real questions...refreshing.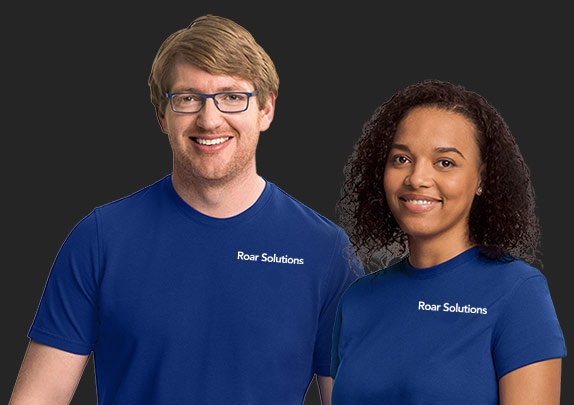 Rated 5 out of 5 Stars by Our Clients!
3,200 + clients and counting
"Roar Solutions is the benchmark of excellence for mortgage websites. Roar mortgage websites are so much better than anything else that it would be crazy for a mortgage person to not have your team handle it."

Calum Ross

Mortgage Broker - Wealth Advisor

"One of the best service providers I have worked with in the mortgage industry. Great value with ongoing updates."

Kelly Neuber

VP Marketing, Invis/MI

"Roar Solutions is an amazing company! I'm so happy to have them taking care of all my website needs. Makes life easier."

Monica Peckford

Mortgage Broker

"Roar Solutions does it all if you need web design and on-going support. The Roar team is a great investment if you want to create a productive & efficient business."

Peter Majthenyi

Mortgage Broker

"Quality web page design and service coupled with excellent response time to my inquiries."

Debra Johnson

Real Estate Agent

"The whole team at Roar Solutions have been great! They have provided a quality website and I am very happy with how fast and responsive they are to any requests"

Michele Cummins

Real Estate Agent

"Thanks Roar Solutions! You've been such a pleasure to deal with. Great prices, Great web hosting, marketing, media service"

Steve Garganis

Mortgage Broker

"I have been working with Roar Solutions for what must be about 9 years now for my website design and hosting. I can honestly say that they have been amazing to work with!"

Natalie Wellings

Mortgage Broker
A beautiful website starts here
What type of site are you looking to build?