Landing Pages for Mortgage, Real Estate and Small Business Professionals
High converting mortgage leads for your online ad campaigns.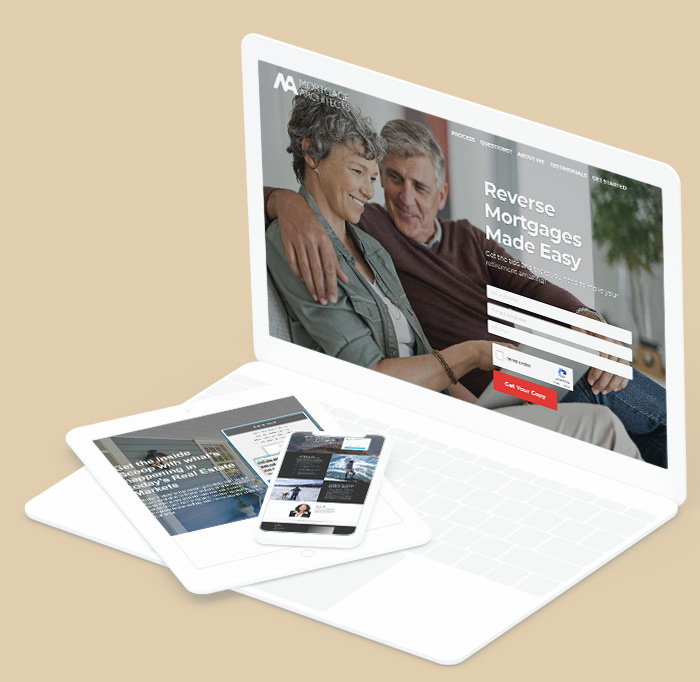 Trusted by thousands of Mortgage, Real Estate & Small Business owners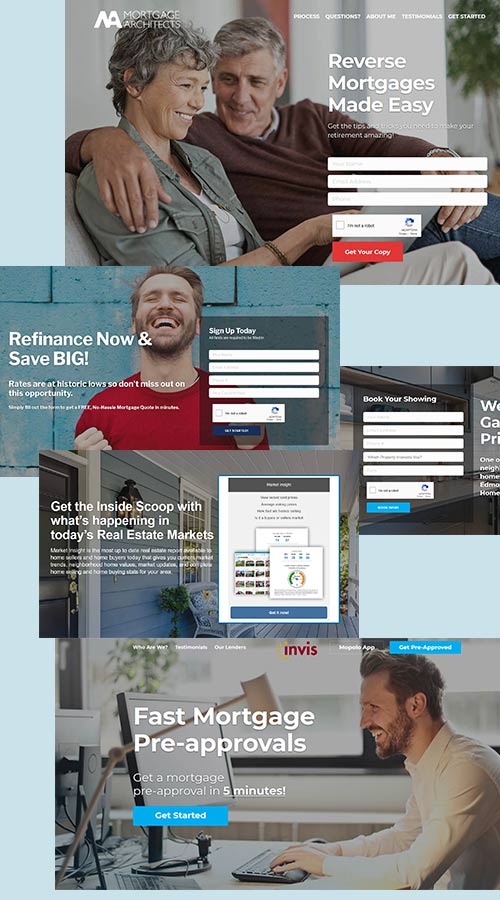 professional landing page designs
Landing pages that help garner leads.
Yes there is landing page software out there that is packed full of features nobody every uses or knows how to use. Do you really want to learn how to code a landing page? We thought not. Turn to us to build you professional landing pages that help drive you leads.
Beautiful Designs
We craft stunning landing pages that help with your lead generation efforts. We'll create you a landing page that you can be proud of.
Customizable
Need something more unique to your needs? We can help design you a lander specific to your product you are promoting.
responsive and mobile-friendly
Optimized for mobile devices.
Our landing pages are designed with a mobile first philosophy meaning they are responsive and always look great on mobile devices. Rest assured that no matter what device a potential client is viewing your landing page from, we make sure it looks amazing everytime.
Email Us To Get Started
less than 1 second
That's how long it takes people to form an impression of your landing page.
20% or more
Improvement dedicated landing pages have on conversion rates.
4 hours +
Time you save having us build your landing page for you.
We help ensure your mortgage, real estate or small business landing pages look professional and are helping you to increase your lead potential.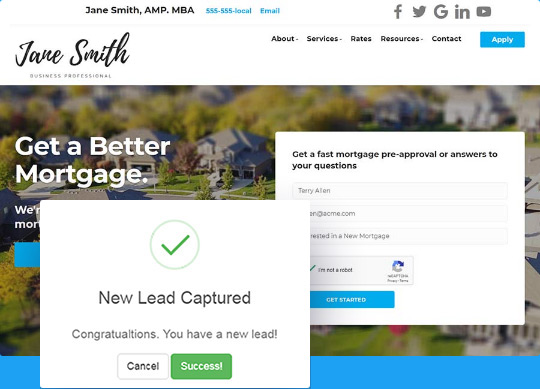 lead generation
Generate and track new leads.
Our landing pages can include lead capture forms that your potential new clients can easily fill out and those leads get directed to you via email immediately.
View Examples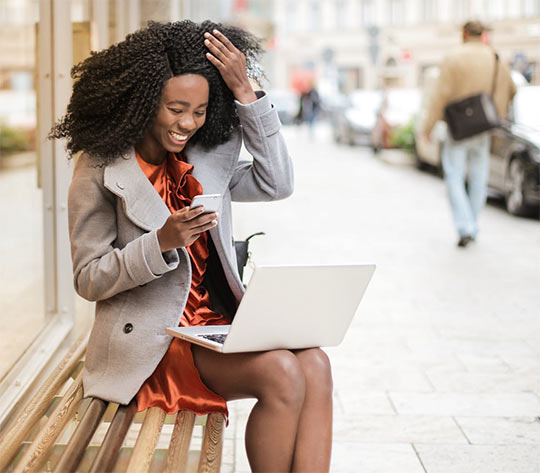 improve conversions
Must click destinations.
Want to promote a specific mortgage product or service or maybe a new real estate listing or a business promotion? Targeted landing pages are an amazing way to do this.
If you are interested in adding a landing page to your new or existing site please be sure to contact us today.
"Roar Solutions is the benchmark of excellence for mortgage websites. Roar mortgage websites are so much better than anything else that it would be crazy for a mortgage person to not have your team handle it."

Calum Ross

Mortgage Broker - Wealth Advisor

"One of the best service providers I have worked with in the mortgage industry. Great value with ongoing updates."

Kelly Neuber

VP Marketing, Invis/MI

"Roar Solutions is an amazing company! I'm so happy to have them taking care of all my website needs. Makes life easier."

Monica Peckford

Mortgage Broker

"Roar Solutions does it all if you need web design and on-going support. The Roar team is a great investment if you want to create a productive & efficient business."

Peter Majthenyi

Mortgage Broker

"Quality web page design and service coupled with excellent response time to my inquiries."

Debra Johnson

Real Estate Agent

"The whole team at Roar Solutions have been great! They have provided a quality website and I am very happy with how fast and responsive they are to any requests"

Michele Cummins

Real Estate Agent

"Thanks Roar Solutions! You've been such a pleasure to deal with. Great prices, Great web hosting, marketing, media service"

Steve Garganis

Mortgage Broker

"I have been working with Roar Solutions for what must be about 9 years now for my website design and hosting. I can honestly say that they have been amazing to work with!"

Natalie Wellings

Mortgage Broker
$

299
1-time set-up fee per landing page.
*Basic starting price - allows for up to 3hrs design and setup time
*More customized landers might be more expensive - we will quote you a base cost up front
*Monthly hosting fees may apply if the lander is to be hosted on it's own unique domain
Integrates with software you
Our websites can connect with all kinds of web services that help make your workflow more efficient. From CRM systems to Google Analytics, email marketing, live chat widgets and more!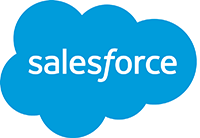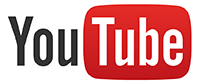 ... and many more! Contact us if you have questions.
What's The Process?
Setting up your new landing page is very easy. We handle all the "techie" details for you.
Sign-up in less than 4 minutes

Simply make sure to have an idea what theme you wish to start with and have your credit card ready.

We go over the details with you

After your sign-up we will contact you to confirm your details, answer any questions and take initial payment.

Build, approve and go live with your landing page.

We build your landing page and host that on our servers and once completed and your happy, we launch it live for you. A basic landing pages takes about 3-5 business days from the time we have all the details and payment. Customizations can increase lead times.

Marketing your landing page.

It is essential that you are marketing your landing page or else it will simply collect dust. You should be looking to do Google Ads, Facebook Ads etc. and in those ads link out to your new landing page.
Have Questions?
Here are a few answers to some common questions you might have
What's the cost of a lander?
Our base landing pages start at $299 1-time set-up fee per landing page. This for a maximum of 3hrs design and programming time. If you have an existing website with us then there is no extra hosting costs. If however this is a stand-alone page and you are not hosting another site with us we would need to setup a domain name that you wish to use and the monthly cost would be $29/month to host. The more customizations you wish to add this might increase the cost and we will always quote you before hand. Note: we take 100% payment in full to initiate a project.
How long will it take to setup?
Typically a basic landing page takes approx 3-5 business days from the time we have all the details and receive payment. Custom and semi-custom websites will take longer simply due to the nature of the customizations needed. Note: we take 100% payment in full to initiate a project.
Can I customize my landing page?
Yes for the most part you are able to modify the content and images on your site. Certain items like forms we would need to adjust for you if needed. If you are looking for a more unique design to set you apart from others we can definitely handle that as well.
Can you purchase my domain name?
By all means we can purchase your domain name for you. We encourage you to use us to purchase and renew your domains as we've seen many clients forget to renew their domain names only to have their website and email go down. Look to us to handle all the techie stuff for you.
Can I manage my own content?
Your site comes pre-loaded with mortgage content saving you countless hours of work. Easily login to add new pages, change your rates, update your photo and a ton more! We're always an email or call away if you run into questions.
Can I host my landing page elsewhere?
Unfortunately not. All our sites include a robust backend admin system to manage your website quickly and easily and this has to be hosted on our server infrastructure. As well, we connect to mortgage applications and calculators that we can support only off our servers.
Do I have to sign any contracts?
For our landing page hosting, there are no contracts at all, you can cancel as you see fit. The only contract we do have is with our SEO/Google Rankings package. This is a higher-end package that is extremely time intensive so there is a 6-month contract for that service only.
Our rock solid Support Team can help with domain purchases, email setups, website content and any other items related to your online marketing. The fastest way to our team is always by email at support@roarsolutions.com or toll free 1-866-820-0831.
always included
Expert Support
New to building websites? No problem.
Our team of experts have helped thousands of Mortgage, Real Estate and small business owners get their websites online. Real people answering real questions...refreshing.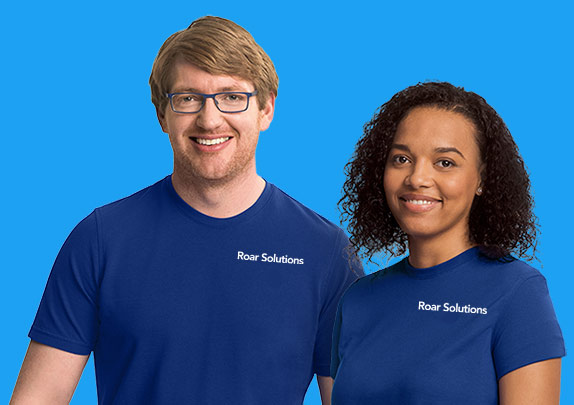 Rated 5 out of 5 Stars by Our Clients!
3,200 + clients and counting
Landing Page Design Examples
Lead garnering landing pages for Mortgage Brokers, Agents, Loan Officers, Real Estate Agents and Small Business owners across Canada and the United States
There's no time like the present
Get Your Landing Page Today