Website Design, Marketing and Inspiration Blog
Educational items to help you succeed online.
Is a free website from your Real Estate or Mortgage Brokerage really in your best interest?
September 27, 2019
---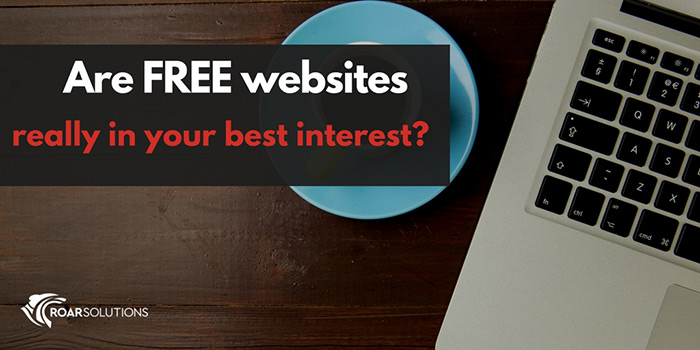 Here at Roar Solutions we have dealt with thousands of Mortgage Agents and Real Estate agents from across Canada and the US. One question we hear from time to time is "Why should I pay for a website and hosting when my Brokerage gives me one for free?"

A fair enough question but we want to help show you why you get what you pay for and why a free website is typically not in your best interest.
How are people finding your unique website online?
Most people today are doing searches on a search engine such as Google to find a mortgage or real estate agent to deal with. As such, it's extremely important that you not only have your own website but you have one that reflects you, is somewhat unique to you and helps to showcase your skillsets and abilities. Your potential clients are looking for this and are most definitely scouting agents out online before they deal with them.
Your website is your online calling card so it should reflect your own unique domain name
Many agents when they start out in the business are hit with fees for this that and the other, we get that and we understand money might be tight until you build your business. That said scrimping out on your website is never a good idea. It's a proven fact that more than 85% of your potential clients are looking online before they decide who they might go with. The question is do you think your free website is the best thing for you in this case? I think you'd agree that spending a bit more money on your online presence is well worth it.

You should at the very least have your own unique domain name. A domain name is what a person would type into a web browser in order to get to your website. An example would be www.roarsolutions.com

Make sure Your domain name is specific to you and not your brokerage
We have seen many times where agents purchase a domain name that reflects them and their brokerage. For example (this is fictitious by the way) www.century21janedoehomes.com. So if you think about this, it is fine if you plan to be with Century 21 for your entire career and are happy promoting their brand vs yours. What happens if you leave your brokerage and go with another but your domain name still says "Century21" in it? Ooops, bad idea.

Please make sure that your domain name is reflective of you and not the brokerage you work for because you want to be promoting you as the brand.
Having your own domain name typically offers you a better ranking in Google vs having a free site from your brokerage
Let's do some math
Yes there is a cost to hosting a website and that's around $300/yr. Now if your own individual website that is under your own unique domain name and not part of your brokerage garners just 1 paying client each year that would by our estimates pay for the website hosting of your website for almost 8yrs or more! Is your 'Free' website doing that for you? We can almost guarantee it isn't.
We see many agents who have their free website and promote it to others and the link to it (just an example) goes something like www.mybrokerage.com/agents/jane-doe. Now looking at this your brand is actually getting no benefit. If you had your own domain name (i.e. www.janedoemortgages.com) that is way better for you and not only that Google starts indexing your website for you and ranking it better than your page being buried in your brokerages website.
What happens when you leave your existing brokerage, your website and google rankings won't travel with you and then you start from scratch.
If you ever leave your brokerage your online presence is suddenly changed. Your "free site" doesn't travel with you and you lose all those Google Rankings. However if you have your own website and domain with Roar we can easily rebrand your site to reflect your new brokerage.
Roar Solutions websites offer you more flexibility to have customizations done to the site vs a free site from your brokerage where you are likely very limited
Yes we provide high quality mortgage and real estate websites that look great, come packed full of the features you want and need for your website and offer up amazing support. The downside is that yes this is not free and yes we do need to charge fees for a website, no getting around that.

The question is when you have a free website with your brokerage are you able to customize the site to your needs? Do you get the support you need in a timely manner? Do you get answers and insights about how to better market your website online? Do you feel embarassed to show friends and family your free website? What about your clients? These are just some of the items we can do that help set us apart from the free website you might have now.

We know most people feel that their free website is doing the same thing as a paid one and that could not be further from the truth. In the end you really do get what you pay for you. We do this as our main business. Mortgage and Real estate brokerages aren't in the website business, it's not what they specialize in or what their main focus is.
Your brokerage offering you a free website or to be listed on a page buried somewhere deep within their corporate site is OK if you are maybe starting out and money is tight but you should be looking to have your own website, with your own domain name. You are your own brand and you should be looking to make your mark and trying to stand out from the crowd in your local market place. We're unfortunately here to tell that the free website you might be getting is not the best answer to your online website presence.

If you'd like to hear more about our service offerings please be sure to contact us at support@roarsolutions.com
Need more help or have any questions?
Contact Us today if you might be interested in learning more about any services that we offer and how we can help bring your website to the next level.