Website Design, Marketing and Inspiration Blog
Educational items to help you succeed online.
Why are Mortgage Broker, Agent and Loan Officer website page titles important to Google
January 15, 2020
---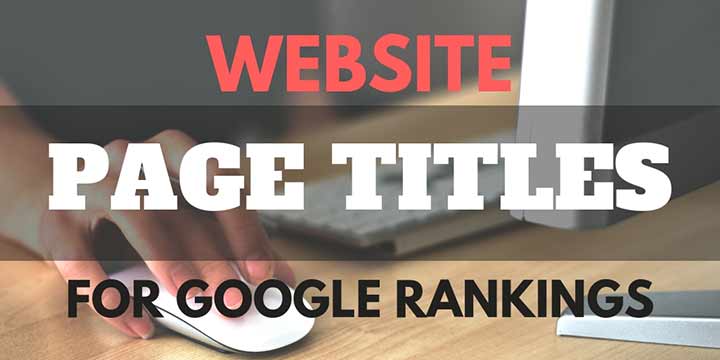 Page titles are probably the most overlooked aspects of SEO (Search Engine Optimzation).They are a very important factor to consider for your Mortgage Broker, Agent or Loan Officer website.

Creating and crafting a good page title is a must-have skill for anyone aiming for higher rankings in Google searches. Title tags are a major factor in helping search engines understand what your page is about, they also determine the first impression visitors have of your page.

It's important to always optimize your page title as search engines rely heavily on it when ranking because it gives an insight into the content of a page. To excel at SEO & get business online, it is important to play by Google's rules. In 2018, Google accounted for over 80% of all global desktop search traffic, followed by Bing, Baidu and Yahoo, clearly ranking on Google is essential to any Mortgage, Real Estate or other small business.

Whether you're looking to improve the optimziation of your website or increase the impact of a content marketing strategy, optimizing page titles is an important step. In this article, we'll talk about best writing practices for page title optimization.

Pay attention to the title length
Google will display 50-60 characters of a page title in the search results before cutting it off, so you should aim for page titles that are around 55 characters or less in length, including spaces.

The length of your page title can affect how it is presented in the search engines results. If it's too long, it'll be truncated. If it's too short, Google might decide not to show your page in the search results at all, or simply overwrite your title.

To be safe, make sure the most important or descriptive words in the keyword are towards the beginning so they're less likely to get cut off.

Note that longer titles may work better for social sharing in some cases, and some titles are just naturally long. While it's good to be mindful of how your titles appear in search results, there are no penalties for using a long title. Use your judgment, and think like a search engine user.

Write unique titles for every page on your mortgage website
Every page on your website is unique and it should be treated as such. It's important to have specific, descriptive titles for each page on your site. The Page title should reflect the individuality of each page. Unique titles help search engines understand that your content is unique and valuable, and also drive higher click-through rates.

Customize the page title on each page of your website so that they accurately describe what's on that specific page. With 57% of marketers stating that SEO generates more leads than any other marketing initiative, won't it be smart to ensure your business pages are seen and understood?

Use your target keyword
Every page on your website should answer a question or provide valuable information someone is searching for. Your website will be more useful to searchers if it ranks in a Google search for the right term - just when they're looking for the information you provide. This is extremely important. A well-crafted title should include your target keyword. So for each page, you should have a target keyword (or a few) in mind.

Since Google's algorithm uses the page title as one of the main ways to determine what a page is about, A good title helps both search engines and users understand what the page is about, and having your keywords in the title is a step towards that direction. That makes it clear to Google that this page is relevant for anyone searching for that specific term.

It's sometimes helpful to have a few descriptive terms in the title, but it is overkill to have the same words or phrases appear multiple times. While there is no penalty built into Google's algorithm for long titles, you might face challenges if you start stuffing your title full of keywords in a way that creates a bad user experience.

This kind of keyword stuffing can make your results look like spam to Google and to users.

Create titles for real humans and not search engines
This is also very crucial. Your titles should be interesting enough to catch and hold the attention of searchers. While page titles are very important to SEO, remember that your first goal is to attract clicks from well-targeted visitors who are likely to find your content valuable.

It's important to think about the entire user experience when you're creating your titles, in addition to optimization and keyword usage. The page title is a new visitor's first interaction with your brand when they find it in a search result - it should convey the most positive, important and accurate message possible.

Avoid vague descriptors like "Home" for your home page, or "Profile" for a specific person's profile. Also avoid unnecessarily long or verbose titles, which are likely to get truncated when they show up in the search result listings.
If you are interested in our Google Search Engine Optimzation packages for Mortgage, Real Estate and Small Business please send us an email to support@roarsolutions.com and we can get a conversation started
Need more help or have any questions?
Contact Us today if you might be interested in learning more about any services that we offer and how we can help bring your website to the next level.