Website Design, Marketing and Inspiration Blog
Educational items to help you succeed online.
How to Choose a Domain Name for Your Mortgage, Loan Officer or Small Business Website
January 8, 2020
---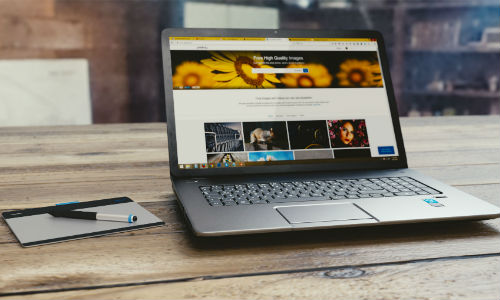 First of all... what is a Domain Name and how does it work?
A domain name is an address that you type into a website browser address bar to get to a website. In other words, it's your online address. A domain name is unique to your website (just like a fingerprint), and cannot be shared between different websites.
3 Reasons why important is choosing your domain name for your Mortgage and Loan Officer Website

1) Professionalism: Acting as your business's address online, a sharp and customized domain will contribute to your site's professionalism and authoritativeness, making your company appear more polished.
2) Make your website easy to find: By picking a good domain name, you can make it more memorable and help potential visitors find it with greater ease. It is a good idea to make sure that your domain name suits your business and is easy to spell (don't want to miss out on business on typos).

3) Give your SEO a boost: Your domain name can play a role from an SEO (Search Engine Optimization perspective).
Top 10 things to consider when picking a perfect domain for your Mortgage website:

1) Be concise
2) Make it easy to type and pronounce
3) Stick to alphabetical letters only
4) Keep your domain name on your brand
5) Include keywords when appropriate
6) Flaunt your local roots
7) Avoid legal trouble
8) Choose the right domain extension
9) Check for availability on social media
10) Plan ahead from the get-go





1) Be concise:
Ideally, a domain name should be between 3 to 12 characters long. If the name you had in mind is longer, you may want to cut it down or change it altogether.
2) Make it easy to type and pronounce:
You may not want potential visitors to linger over details such as spelling before getting to your website. It's a good idea to avoid words that are frequently misspelled and shorthand, for example, 'u' instead of 'you'.
Tip: It may be a good idea to run a domain name by a few friends to see if they can get it right on their first try.

3) Stick to alphabetical letters only:
Numbers and hyphens can be confusing and hard to type and remember. Numbers may leave people wondering whether to use the numeral digit or to spell them out (is it 10 or ten?).

4) Keep your domain name on your brand:
Aligning your domain name with the rest of your marketing efforts, such as your logo and general tone and voice will help give off the right message. It may be a good idea for your domain name to be the same as your business name, a variation of it or, your business name with an added keyword, for example, 'mortgagewithmatt.com'

5) Include keywords when appropriate:
Through the practice of SEO (Search Engine Optimization), you can improve your chances of showing up on Google when people search for businesses such as yours.
Tip: Include a relevant keyword in your domain name, this will help visitors and search engine bots associate your site with your field

6) Get Local with it:
Highlighting your location in the domain may help you acquire more traffic through local SEO.

7) Avoid legal trouble:
Before buying your domain, make sure you are not infringing on the competition. Going with a domain name that has been adopted by other brands even indirectly (meaning in uses other than a domain name), could result in customer confusion and possibly also legal issues.

8) Choose the right domain extension:
Your domain extension is the suffix at the end of your domain name, also known as the TLD (Top Level Domain). While ".com" is certainly the most common extension out there, there are many other options that can serve different needs for different websites.

There are many available domain extensions, ranging from the quirky (like ".guru") to the explanatory (such as ".tv"). Here are just a few of the major domain extensions explained:

- .com: Short for "commercial," this widespread domain extension is almost synonymous with the web. It is the most trusted and well-known extension, and when in doubt, it's usually the best option. The ".com" extension is associated with for-profit businesses. For example roarsolutions.com.

- .org: Short for "organization," this domain extension is most often used for non-profit and charitable organizations. For example wikipedia.org.

- .net: Literally referring to the Internet itself, this extension is commonly used by online businesses, startups, and other high-tech applications and services. For example behance.net.

- Local extensions: As previously mentioned, this type of extension shows off your physical whereabouts and might give your local SEO a boost. A few examples include ".ca" for Canada, ".fr" for France, ".co.uk" for the United Kingdom, and more.

9) Check for availability on social media:
Your domain name should remain consistent across ALL of your different branding assets. This means your Social Media branding and any other place your branding might show up.

10) Plan ahead from the get-go:
This step is not mandatory, but it is a good idea. You may want to purchase a few variants of your domain name to protect them from competitors. This may mean different extensions like both .com and .ca or similar options of the same name. This can be useful as you can connect multiple domains to a single website.


How To Register a Domain Name?

There are multiple ways of purchasing a domain, one of the easiest ways is to purchase it through us. We will handle the auto-renewals and any updates to the domain settings for a small yearly fee.

What are you waiting for? I gave you some ideas now make it happen! Contact us today to get things started!
Need more help or have any questions?
Contact Us today if you might be interested in learning more about any services that we offer and how we can help bring your website to the next level.