Website Design, Marketing and Inspiration Blog
Educational items to help you succeed online.
5 Ways to Impress Your Facebook Followers
December 3, 2019
---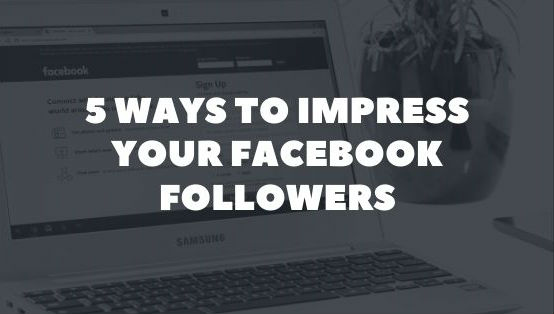 What is Facebook?

Facebook is the 'Face'(pun intended) of today's 'social media platform' for the majority of people. Facebook makes it easy for users to share news and photos with their friends and family online. Businesses also use this platform to engage with users by sharing relevant information with the hope that they may become customers. One of Facebook's advantages is that it has a huge pool of data for businesses to work from. This can greatly improve the chances of you finding your target audience, based on things like age, location, interests, etc...

Facebook has over 2 billion active users and approximately 1.5 billion daily users. Many people use this platform not only to connect to their loved ones, but they also use it to look for a new apartment, seek advice in a group or even mindlessly browsing food recipes and videos for hours.


5 Ways to Impress Your Facebook Followers
Okay, so you did the hard part. You got some followers, now you got to get their attention. With Facebook's ever-changing algorithm, it may be very difficult for your posts to show on their news feed. Here are some ways to capture their attention.

Regular Feed Posts
Here is where you can share text, article links, pictures, videos, etc... to show that your business page is active. Once you post it, it may become visible on your followers' news feeds. The more interest (or likes) your followers show on your posts, the chances of your post showing up on their news feed will increase.
Facebook Stories

These are a form of temporary content, very similar to Snapchat. You can upload photos and videos; however, they are only 'live' for 24 hours before they disappear. This feature can be perfect for promotions or specials. It will allow users to like, love and comment just like a regular post. You can also track how many people viewed the posts, who liked it and so forth...

Facebook Stories is the first thing that users see when they log into their profile. This means that it is great for grabbing attention by using an organic way to connect with your clients. You can use it to show what goes on behind the scenes of your business or even introduce a new member of your team! Let your audience get to know you and the people behind the company.

Facebook Live
Facebook Live has almost taken on a form of broadcasting of its own. It is a place to share live video content with your follows and connect with them as if they were right there with you. It's a great way to answer questions, get to know your clients and allow them to get to know you with real-time commenting and live reactions! Facebook Live also has built-in analytics capabilities to track video performance while giving you access to possibly the world's largest online audience through a platform they already use every day.

Facebook Messenger
Facebook Messenger can be used to engage your audience, earn loyalty, improve social reach and provide great customer service. Today's customers typically do not enjoy using the phone for customer service as it can be difficult to multi-task and may cause clients to feel they are wasting important time. Facebook Messenger can provide instant satisfaction that phone conversations or emails may not be able to. The great thing about Facebook Messenger is you can install this feature into your website and it will allow you to communicate with your client even after they have left your website.

Facebook Events
If you are planning on hosting an event, Facebook Events is the place to promote it. You can easily share the time, location, details and invite everyone. Everyone that you have invited that replies as 'interested' or 'going', it will show up in their friends' news feeds too. This will help put your event in front of more people and thus, helping you extend your reach and potentially gain new clients, just from getting an RSVP.

With the RSVP feature, you will have visibility into the invitees who declined or replied 'maybe'. Why is this valuable? These types of metrics can be useful in your overall marketing plan. Do you notice a certain age group is declining more often? Men or women? Singles? There are tons of ways to break this information down to help you determine who you should or should not be targeting for your events.

Another great feature included in Facebook Events is that Facebook notifies users that their friends are going to an event nearby on the day of the event. Users will also be able to comment and connect with one another on the event page, this may help establish a community tied to your brand.
Need more help or have any questions?
Contact Us today if you might be interested in learning more about any services that we offer and how we can help bring your website to the next level.