Website Design, Marketing and Inspiration Blog
Educational items to help you succeed online.
Awarded the Best Web Designers in St. Catharines from ThreeBestRated.ca
November 8, 2019
---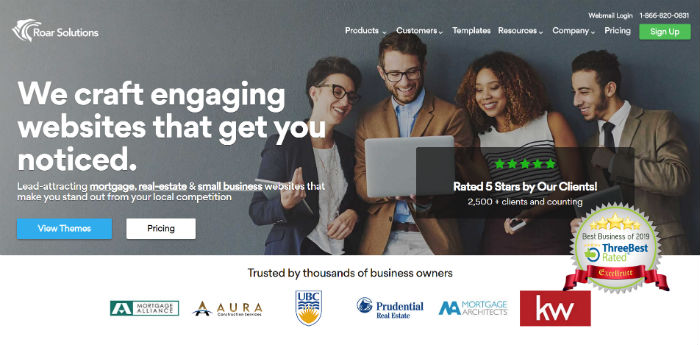 Top 3 Web Designer in St. Catharines, Ontario by Three Best Rated!
Handpicked Top 3 Web Designers in St. Catharines, ON. We faced a rigorous 50-Point Inspection, which includes everything from checking reviews, ratings, reputation, history, complaints, satisfaction, trust and cost to general excellence. You deserve only the best!.

Our Websites are Fast, Mobile Friendly and Responsive
What does this mean? It means you need a site that is comfortably viewable across a range of devices. The age of people sitting at home on their PC's to search for stuff is over! Everyone is mobile and on the go, they want things faster, easier and cheaper.
There have been studies that show at least 80% of people use their mobile devices vs computers and we believe them! Think about it the next time you are searching for something…
We at Roar not only Design amazing websites contact us now to learn more!

Social Media Packages
There are many channels of Social Media that you use to your advantage. The main ones people use seem to be Facebook, Twitter, Linkedin, Instagram, Twitter, and even Snapchat.
These channels should be utilized in different ways because of the different audiences you may have. For example, Linkedin is used mainly for people to build professional relationships, meanwhile, channels like Instagram and Snapchat can be used to build a more personal relationship… down to details of what you had for lunch.
We at Roar can post on Facebook, Twitter on your behalf with our Social Media package.

We offer SEO - Get Your Website Ranking in Google

SEO stands for Search Engine Optimization... why do we need it? Great question!
SEO is almost like a set of rules that can be followed by website owners to improve their rankings on search engines such as Google. This is mega-important because most people do not look past the 1st page of search results. Following the rules will help you battle everyone else for that top spot!
Here's an example...when you are looking for stuff like the Best Burger in town, you're probably going to use Google. You will may read a few reviews, may or may not drool over some pictures and then choose which burger joint you are going to. Google uses rules of SEO to make sure that your search for burgers does not bring you a list of plumbers instead.
SEO can be very time consuming but it is worth the effort. There are many parts to it but there are plenty of resources you can tap for information. Or if you do not have time, you can have us do it for you. We've helped over 50 Mortgage, Real Estate and Small Business websites get great rankings in Google!


What are you waiting for? We've given you some great ideas now let's make it happen.
Contact us today if you might be interested in learning more about the above-mentioned services that we offer that can help bring your website to the next level.
Need more help or have any questions?
Contact Us today if you might be interested in learning more about any services that we offer and how we can help bring your website to the next level.