Website Design, Marketing and Inspiration Blog
Educational items to help you succeed online.
Google Photo and Video Review Update March 2020
March 12, 2020
---
A recent update to Google My Business Listings has photos and videos being reviewed before being published. In short, when Google users submit photos or videos to your online Business Listing, Google will NOW review it to ensure they are compliant and do not display offensive or misleading content on your account.

See the graphic below of the area of your Business Listing we are talking about: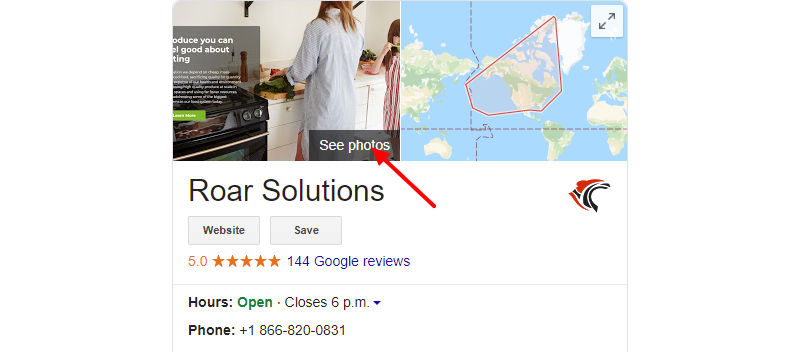 What Are Google Business Listings Again?
Google Business listings are an important part of the digital marketing strategy for any business. A company can dramatically increase its visibility on Google Search, Google Maps, and other services just by creating a Google Business listing.
What Does It Mean That 'Photos and Videos Have To Be Reviewed Before Publication'?
This likely means that there will be some delay with photos and videos showing up on your Google My Business profile after being uploaded.
Google did not let us know if the content will be reviewed by Artificial Intelligence or a human team of reviewers. Artificial Intelligence would be a lot faster; however, humans may catch things that Artificial Intelligence may miss BUT it's hard to scale human review.
Does This Apply for ALL Photos and Videos Uploaded A Google Business Listing?

This may only apply to 'User Generated Content', meaning that your Photos and Videos may not be subject to review if you own the Google My Business Listing. This review process may be helpful to screen out images or videos that may be irrelevant and possibly harmful to your business.



Where Can I Find More Information On This Topic?
We recommend going directly to the Google source: https://support.google.com/contributionpolicy/answer/7422880?hl=en
Is There Anything I Should Do?
It is a good idea to log into your Google My Business profile to make sure everything is accurate. You should also take this opportunity to review the images submitted on your Google My Business Listing as the change will apply to user-submitted content moving forward, not content already submitted (or have our team do it for you... just ask).



Need more help or have any questions?
Contact Us today if you might be interested in learning more about any services that we offer and how we can help bring your website to the next level.