Website Design, Marketing and Inspiration Blog
Educational items to help you succeed online.
Potential scam alert: Domain expiration notices from Domain Registry of Canada
March 12, 2020
---

Does This Look Familiar?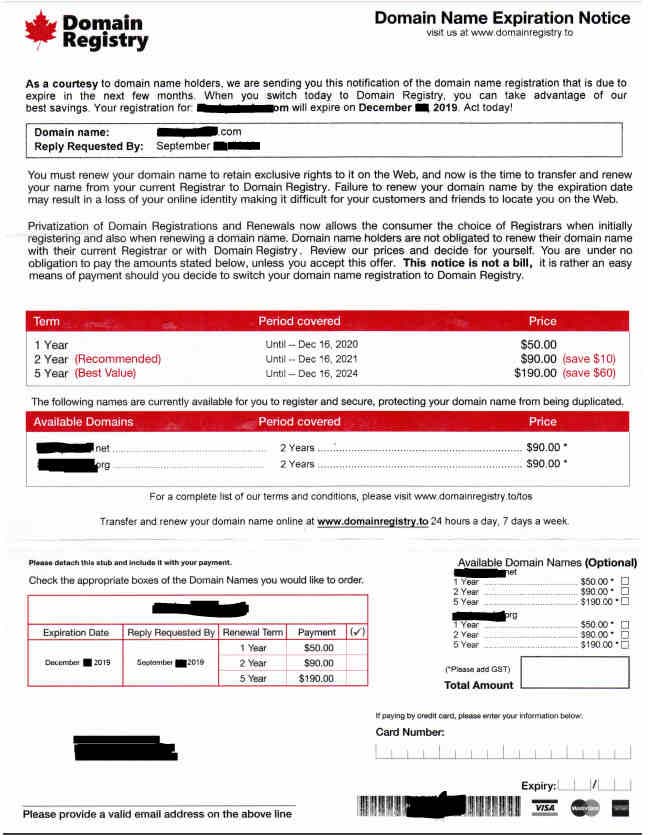 A company called 'Domain Registry of Canada' is running a scam called Domain Slamming.
What Is Domain Slamming?
The deceptive practice of Domain Slamming is when a company with no connection to the domain owner sends fake renewal notices or bills disguised as service transfer notices. These 'Renewal Notices' will often result in higher fees for the domain name and an unauthorized transfer to a different registrar or service provider.
Who is 'Domain Registry of Canada', why is this a scam?
A Domain name registry is a database of ALL domain names and associated registrant information in the top-level domains of the Domain Name System. The official registry for .CA domains is CIRA and the .COM is Verisign. It is uncertain who 'Domain Registry of Canada' is but we know they are not the team that operates the .CA or the .COM registry.

As to why this should be classified as a scam? Its because they have scraped your data (more information on how that is done below) and contacted you in an unsolicited fashion that may be illegal but certainly unethical.
How Do They Do It?
To get your information such as your mailing address, they collect the details of your domain name registration from the publicly available whois database.
Once they have the information, they send the deceptive letter and wait for you to take the bait. Their goal is to trick anyone who owns a domain into transferring that domain to them.
Are ALL Expiration Notices Scams?

No, many registrars and/or web firms may send you reminder notices when your domain is close to expiration. Make sure you know where your domain is managed so you do not end up paying more than you should or accidentally transferring your domain.

If you have any questions or concerns please feel free to contact us.
Need more help or have any questions?
Contact Us today if you might be interested in learning more about any services that we offer and how we can help bring your website to the next level.