Website Design, Marketing and Inspiration Blog
Educational items to help you succeed online.
10 Must Have Items Every Mortgage Broker, Agent and Loan Officer Website Should Have
May 11, 2023
---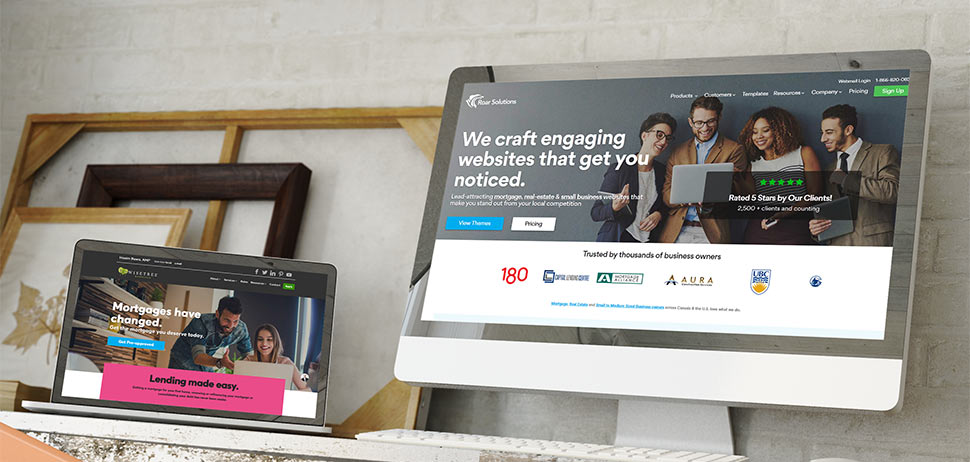 First off - Why Are Mortgage Broker, Mortgage Agent and Loan Officer Websites important to have in the first place?
If you don't have a mortgage website yet, you're light years behind your competition. For today's successful mortgage agents/brokers and loan officers this is an absolute must have item, no questions asked. If you don't have a mortgage website yet you are in the minority as your potential clients are all going to be looking to go to your website before they make any kind of decision to make contact with you.

A mortgage website is also one of the best ways to not only tell people what it is you do, it's also a place where you can share valuable resources, giving people the information they need to make a decision about getting a mortgage. To add to all of this your website is also a great way to collect leads.
Now the top 10 Items every Mortgage Broker, Mortgage Agent and Loan Officer website should have...
1) Secure Website using HTTPS
This is the green lock you see when you visit a website in your browser. If you don't see that, it likely means the site is not using https which is a no-no nowadays. For more details please read an older blog post we wrote on this topic as it sums it up nicely.
2) Easy to navigate website that is 100% Mobile Friendly
Nowadays your mortgage website has to be mobile friendly. There is no doubt about that. The latest stats show upwards of 77% of users will be looking at your website from a mobile device or smartphone. There is nothing more frustrating than visiting a website that doesn't show or behave well on a mobile phone.
To add to this, your website needs to be clean, uncluttered and easy for people to navigate around and get to the pages they need to quickly.
3) Social Proof
Social proof is a psychological phenomenon where people assume the actions of others in an attempt to reflect correct behavior for a given situation. Let's face it, humans tend to follow the words and actions of others before they make a buying decision.
Social proof in this case refers to real world testimonials from your past clients. These need to be clearly visible on your website. You need to ensure you are capturing these testimonials in areas such as your Facebook business page and your Google My Business page.
4) Clearly Define the Mortgage Products and Services you offer
Your website needs to convey to people quickly and clearly what it is you do and what you can help people with. From mortgage renewals to refinancing to debt consolidation to reverse mortgages and more. If you do not clearly detail out your mortgage services how will anyone know how you can help them out?
5) Mortgage Specific Tools
Your mortgage website absolutely has to offer people a mix of mortgage specific tools. These are typically...
- Easy to use Mortgage Calculators
- A page with Frequently Asked Mortgage Questions (FAQs)
- Glossary of Mortgage Terms
- Lastly it's very important that you have an easy to use (and secure) Mortgage Application Form.

Plain and simple, people just expect these items to be in place when they visit your site.

Now posting lending rates on your website is typically a good thing if you keep these rates up to date. If you are from the belief that posting rates on your website isn't the way you wish to go you might be losing out on some potential clients as rates are the #1 item potential clients are coming to your site for. That said if rates are not something you wish to show you should definitely make note that your rates are competitive or give a reason why rates aren't something you compete on. It needs to be compelling for someone that is looking through your site.
6) Social Media
Social media is here to stay and todays younger generations spend a lot of time on social media. If your of the opinion that social media is a fad or that it's not right for you or not worth your time then you are going to be left behind and your competition will definitely take advantage of that.

Having a website is a must but being active with your business social media accounts is a close second. At the very least you need to set up a Facebook business page, a LinkedIn Business profile and a Google My Business Page. These should be mandatory for any serious mortgage professional. Once you have these setup you need to be sure to add links to them from your website.
Now after you have these accounts setup now what? Well you need to be active on them and on a regular basis. This tends to be the hard part but companies like Roar Solutions offer Managed Social Media services that allow us to post to your accounts on your behalf making you not only look active but look like an expert in your field.
7) Fresh Content
There's nothing worse than getting that great website built and then never touching it again. Fresh content is king and as a professional mortgage broker your website is likely one of the biggest business cards you have. It should be packed full of all the items a client or potential client should need.

If you are not active in updating the content on your site, especially your blog, then once again you're missing out. Google for instance absolutely loves fresh content and rewards those that have it with much better rankings. Better rankings mean more traffic and potential eyeballs on your website.
We know you're busy, you don't have the time and don't know what to write about. If that's the case look to outsource your mortgage blog and social media posts to a company that specializes in this.
8) Website Calls to Action - Lead Magnets
What's a Call To Action - it's simply content on your site that prompts a user to make contact with you, download an educational pdf you might have, sign up for say a newsletter etc.
What's a Lead Magnet: It's essentially an incentive you offer to a potential client in exchange for their email address. An example might be when a user signs up for a free report on your website or maybe it's a whitepaper, video etc. The beauty of this is that the person has now opted in to receive more communications from you in the future which means you just landed another potential client.
Today's modern websites need to have these tools in place as a great step towards garnering more leads for your business.
9) Define your Mortgage Process - What a Client Can Expect
Lets face it, most of your clients will not know what's involved in the mortgage process, what items and documentation they need to provide you and how long the process takes.
On your website you should definitely have a page, maybe a graphic or snippet somewhere that helps people get a better idea of what the mortgage process is. Your clients will definitely appreciate it.
10) Your Own Unique Domain Name
A domain name is your website name. It's what people type into a browser to get to your website. An example would be www.roarsolutions.com.
Far to often we see Mortgage professionals not have their own website. They simply have a page buried in their mortgage brokers website and that is not enough. You need to think about building your brand and part of that is your own website with your own unique domain name. Our team can help with any domain name purchases, setup and help give you ideas as to what a good domain name would be.
Bonus #1: Mortgage Brokerage Websites
If you are a mortgage brokerage (broker owner) and have agents or loan officers working for you, you need to make sure you have a team page on your website. This helps give them the exposure they need.
Bonus #2: Google Rankings - Search Engine Optimization (SEO)
This is for those brokers, agents or loan officers really looking to set themselves apart from the pack. In a nutshell, SEO is all about getting your website higher rankings in a search engine such as Google. It's an essential piece of your online marketing tool-kit.
Check out our latest blog post: The Ultimate Guide to writing SEO Optimized Blog Posts - a great must-have for your mortgage website
If you are in the market for a professional mortgage website were here to help. You can send us a quick email to support@roarsolutions.com or call us at 1-866-820-0831.
Related Blog Posts:
Need more help or have any questions?
Contact Us today if you might be interested in learning more about any services that we offer and how we can help bring your website to the next level.